Postgraduate Web-Based Course "Evaluation Methods in Implementation Research"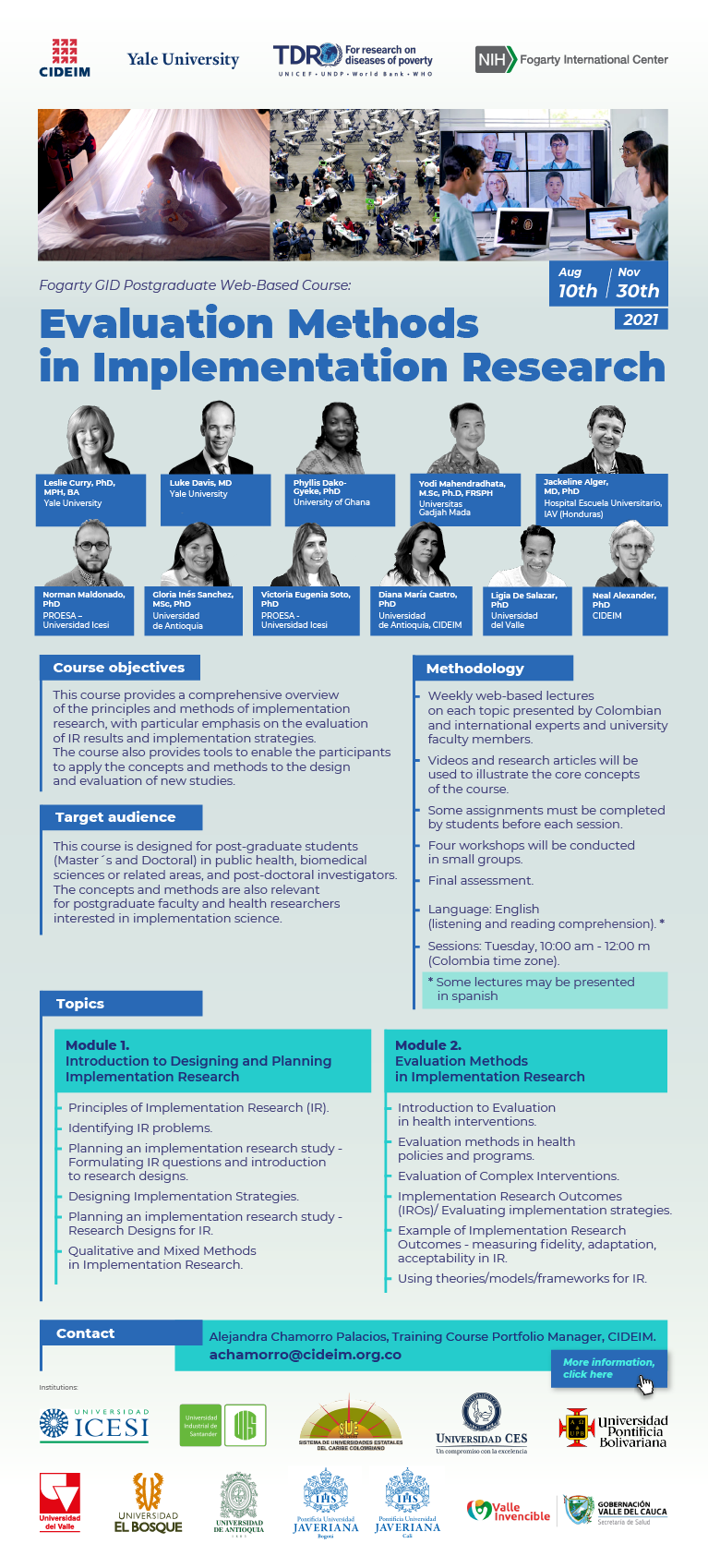 Course objectives:
This course provides a comprehensive overview of the principles and methods of implementation research, with particular emphasis on the evaluation of IR results and implementation strategies. The course also provides tools to enable the participants to apply the concepts and methods to the design and evaluation of new studies.
After completing this course, students will be able to:
Understand the core concepts of implementation research
Identify contextual challenges and assess the relevance of existing implementation strategies
Formulate implementation research questions and identify multiple approaches to integrate qualitative and quantitative designs
Understand different frameworks/theories for evaluation in IR
Identify barriers and facilitators to the adoption and integration of evidence-based interventions into real-world settings
Design and develop innovative and more effective implementation strategies working with communities and multiple stakeholders
Identify implementation research outcomes used to evaluate the effectiveness of implementation strategies
Download the syllabus here.

Dates:
August 10th - November 30th, 2021
Registration:
Each post-graduate students and faculty interested in completing the course can register here
Target audience:
This course is designed for post-graduate students (Master´s and Doctoral) in public health, biomedical sciences or related areas, and post-doctoral investigators. The concepts and methods are also relevant for postgraduate faculty and health researchers interested in implementation science.
Evaluation
Attendance: 20%

Workshop assignments: 50%

Final assignment: 30%

Evaluation may also include brief reports of readings prior to each lecture to be submitted to the institutional course coordinator. (To be defined with course coordinator).
Contact:
Alejandra Chamorro
Training Course Portfolio Manager
Esta dirección electrónica esta protegida contra spam bots. Necesita activar JavaScript para visualizarla